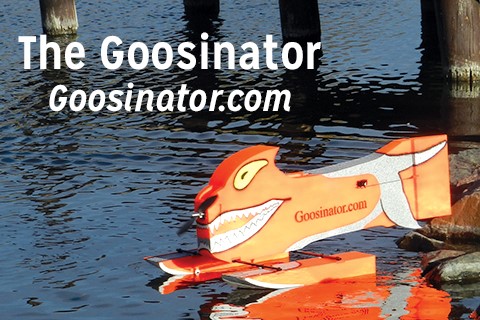 Company Description
Finally! A Proven Method That Effectively Gets Geese off of Your Property Quickly and Efficiently
It Works On: Grass, water, snow, ice, and even sand!
With this new technology, we promise that you will be very satisfied with this durable product because it is:
•affordable
•easy to operate (one person can do it)
•quiet
•a quick solution for chasing geese
•made of cutting edge materials
•and cheaper and more effective than any goose chasing dog.
Put simply; IT IS THE MOST EFFICIENT GOOSE PROBLEM SOLVER EVER!
"We have tried so many different ways to decrease the damage geese do to our golf course. This is by far the best purchase we have made in trying to decrease the damage and labor hours that geese cause. We are looking forward to a spring when we don't have to spend countless hours repairing goose damage. It is unbelievable we have zero geese now that the goosinator patrols our property."
Jeff Stoumbaugh
Superintendent Member
Categories
Cleaning Tools & Products

Cleaning Tools & Products

Equipment

Cleaning Tools & Products

Pond / Lake Management Products

Pond / Lake Management Products

Specialty Products & Services

Specialty Products & Services

Universities / Colleges

Wildlife Management / Control Products

Wildlife Management / Control Products
To Top